A couple months back I was asked by my "brother", Joseph, to come up with a graphical design for a new surfboard he was having shaped. He initially wanted something to reflect his Italian/Irish descent, but after not being able to settle on an Italian theme that appealed to him, he decided to go with something that would display his Irish heritage instead. As he was conferring with me over lunch about what he wanted, the little designing gears in my head started cranking and I had a design all planned out even before he finished talking to me. Later that evening, I created a rough sketch of the design in Photoshop and emailed it to him -- he loved it! After a few touch-ups here and there and some drop shadows, it was ready to go to the printers and then on the board. He finally picked up the finished board yesterday and sent me the following pictures for now -- we're planning on going to the beach next week to take some better photos, so check back after next weekend for the updates.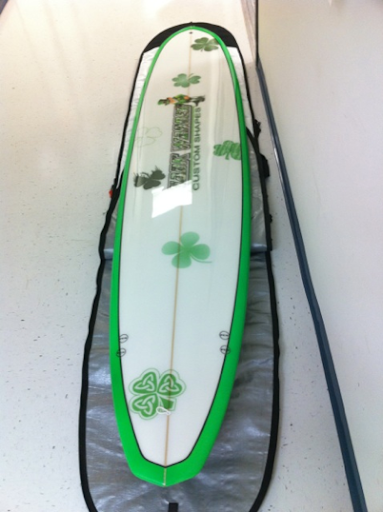 I even made him an iPhone 4 skin to go along with his new board:
Please leave feedback about the designs and, if you have any, suggestions for an Italian-themed board.